SHUT DOWN Live: Mad About The Boys
The Observer, 3 December 2017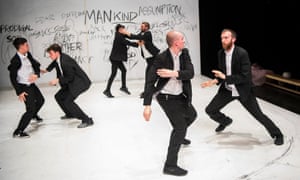 'Eye for absurdity': Shut Down by Vincent Dance Theatre. Photograph: Tristram Kenton for the Observer
Vincent Dance Theatre's new work, Shut Down, is about men. "We're the problem," announces a bearded bloke in the piece's opening moments. "It's hard to know what to do." This bewilderment becomes increasingly apparent as four adult and three teenage performers struggle to negotiate the journey without maps that is contemporary malehood.
Founded in 1994 by choreographer Charlotte Vincent, VDT has acquired a reputation for its inventive takes on gender and identity. The work is unflinching, but Vincent's eye for absurdity, and for the telling human detail, ensures that it never becomes issue-bound. You see her magnificent seven in suits and ties, feet planted wide, all turkey cock assurance. Then someone flips a rugby ball and they're scrapping like kids, barging and shoving and ridiculous. Veneers are biscuit-thin. Performers present as old-school hard men, as sporty alpha males, and as reconstructed "new" men wearing tool belts stuffed with Pampers and baby wipes. Licensed to show their emotions, they weep uncontrollably. "There's an alternative to the patriarchy right there," observes a battle-scarred gender warrior as his colleague sobs.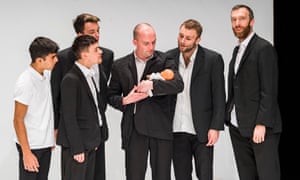 Like previous VDT works, Shut Down has been painstakingly constructed through observation, improvisation and research. The piece isn't an anti-male rant, but a witty and humane examination of conflicting forces. Vincent identifies, with forensic precision, the different ways in which men react to changing times. At one end of the spectrum there's the guy who won't give an inch and reacts to a friend's distress by slapping him and telling him to "man up" and "stop being a pussy". At the other there's the self-hater, shouting to the world at large that "we're an absolute fucking mistake".
"I've quit porn," a third bloke confides, explaining that the "death grip" of masturbation was taking too great a toll. And then there's the sharp-featured young man, whom we've seen earlier belligerently fronting up to the audience and imploring us to "have a go, yeah", who quietly takes off his street clothes to reveal a satin slip and lace knickers. Pulling on a blond wig and high heels, he is approached by an older man who lifts and holds him with wondering tenderness. These evolutions are not organic, Vincent makes clear, they're just rearrangements of the male toolkit. In a final tableau we see the whole cast lined up and pissing against the backcloth, marking their territory, checking one another out. Some things never change.